Half Measures Rockette
"Dani"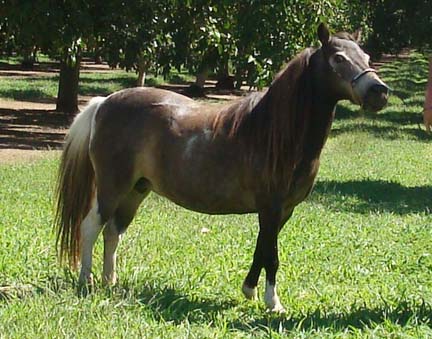 1997 AMHA & AMHR, DN, 33" Buckskin Pinto Mare
Sire: unknown x Dam: Buttonwillows Dusty Dawn
no pics available of sire or dam
Dani came to us somewhat accidentally, as we purchased her to help out another breeder, as we didn't really need her and her "pedigree" was close to lines we already had, or so we thought! When she arrived, we requested AMHA to perform a PQ test, as she had only been DNA tested (I like to know for sure what I'm breeding!). To everyone's surprise, she wasn't from the sire listed on her original papers (Original registration was Half Measures Lord of the Dance - which I thought was interesting being a "Lord" when she's a "Lady"!).
Fortunately AMHA was diligent about solving this mystery, and they did have on file one that matched - Half Measures Rockette. So yeah for solving the mystery, boo for her losing her pedigree on top! The stallion had apparently been DNA'd but not registed and died (or something to that effect!). Morale of this story - I won't PQ test horses I didn't breed ever ever again!
So, Dani went from being Half Measures GM Lord of the Dance to Half Measures Rockette. We're still calling her Dani though! She's a beautiful mare that has produces gorgeous foals including one Regional Grand Champion daughter (Half Measures Samis Kid).

She's a bit on the chunky side right now compared to when she arrived, but I'd rather have "fluffy" Minis that skinny ones!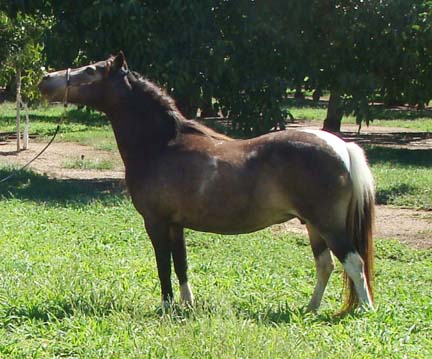 Dani's pedigree
Half Measures Lord of the Dance
uknown
Buttonwillows Dusty Dawn
Lippes Granite
Dell Teras Tinker
Dell Teras Betty
Dell Teras Hippy
Dell Teras Margo
Deiles Dust Girl
Parrs Sambo
Parrs Little Man
Del Whistler
Del Little Red
Parrs Dapples
Deiles Dust
Pedigree generated by PedigreeQuery.com