2000 Miniature Horse Foals
In 2000 we had our first experience delivering a Miniature Horse foal. When we purchased our first three Minis - ET, Woody and Silhouette - the breeder dropped them off in November 1999 with the last word that ET was due in May. My response was due for what? I hadn't "intended" to breed Minis, the three we bought were to keep me busy until I had time for a "real horse". A quick six months learn and buy everything you can ASAP, Una was born May 16th. Fortunately ET being an experienced pro foaler, found my hysterics funny running around trying to do everything the "proper" way. So while I ran around like a crazy person grabbing the foaling kit and all the "must haves" for foaling and post foaling she happily munched her hay and gave me the "silly human" look.
Sired by Las Doradas American Eagle before he left for Australia.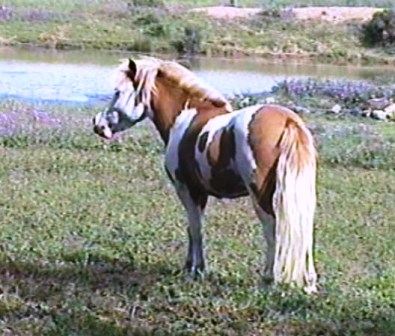 We "thought/hoped" we'd see some spectacular loud color (we don't intentionally breed for color, but cross our fingers and consider it a wonderful bonus!), instead we were lucky to get Miss Una. She has her sire's leggy, refined build, but only a couple of coronet bands of white and one blue eye! The star was compliments of her dam, ET. We loved her onsight and like any 'new' parent took tons of phtos of her! Una's a lifer here (She's now a great-grandma in 2018).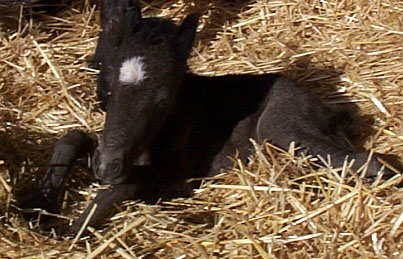 Una with her daughter, Wesco Farms Count Your Blessings in 2011