Las Doradas Etoile de Mar
"ET"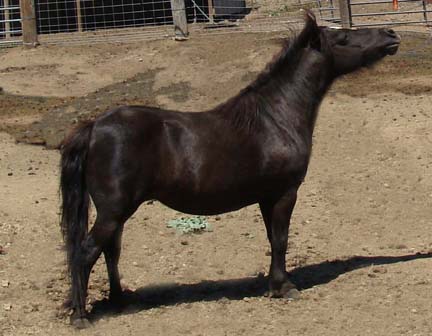 1992 AMHA & AMHR DNA tested 33.25" Black Mare
Sire: Willowbrooks Moonshadow x Dam: Les Petites Avril
ET is one of our first Mini's, the 'E' in W-E-S-Co in fact, we bought ET with her daughter, Silhouette and nephew Woody (the W and S in our ranch name) - hence the name. When the trio were delivered, we were told, ET was due in May. Due for what was my response? So, we fast-track learned about foaling/pregnant mares, etc. and that was our beginning into breeding Minis!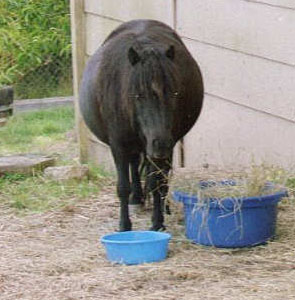 ET has been quite an educational mare as she's very smart and I've learned alot from her over the years. The photo above from 1999, is her pregnant with Una. She suckered me good on the "starving Mini" attitude they're so good at portraying! When Una was 4 months old the vet's informed me ET needed to lose 50 pounds! She was that fluffy!!!
We've had a number of foals from ET over the years, and have retained some of her downline in our breeding herd and/or as beloved pets. She's been retired for a few years now and is slowing down considerably. She now gets to train the new foals on manners, although she's still willing to flirt thru the fence with the boys - the hussy!

ET's pedigree
Las Doradas Etoile de Mar
Willowbrooks Moonshadow
Dell Teras Thriller
Dell Teras Bronco
Irsul Vant Huttenest
Volmar
Ursula
Vodka
Dell Teras Rhonda
AWH Lady Black
Les Petites Avril
Tinker Toy Sundance
Hemlock Brooks Pharo
Dell Teras Moon Man
Stouts Mister Pride
Stouts Mona Lisa
Dell Teras Missy
Hemlock Brooks Shirley
Dell Teras Lord of the Isles
Dell Teras Buttons
Dell Teras Silver Mist
Candy Dipper
P JS Poker Chip
P JS Nipper Zipper
Pedigree generated by PedigreeQuery.com