Wesco Farms AToy4Me Brazen Beauty
"Valentina"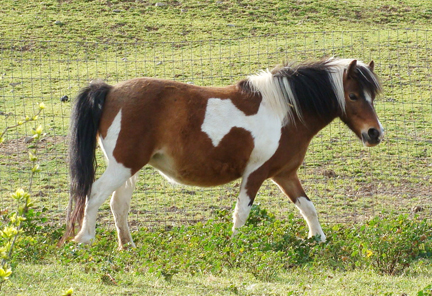 2003 AMHA & AMHR DNA PQ Tested 33.25" Bay Pinto Mare
Sire: Las Doradas AToy4Me2 x Dam: Las Doradas Celena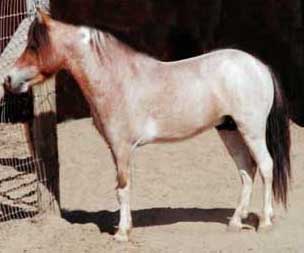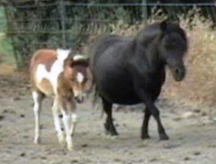 Valentina is a beautiful bay mare with wonderful conformation, large doe eye and a pretty shaped head. Add to that her rich color and she's a definite "keeper" mare.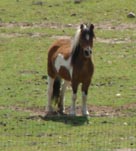 We've had some gorgeous foals from her so far (Wesco Farms TC Up All Night, Wesco Farms Jai Ho FF and Wesco Farms Spyder Byte MX), she aborted a pinto filly at 5 1/2 months in 2013 sadly.

We look forward to future gorgeous foals from Val in the coming years. We are planning to breed her to WCR Top Cop for a 2015 foal. This will be a repeat breeding as we've been so impressed with Jitters (Wesco Farms TC Up All Night) looks and conformation.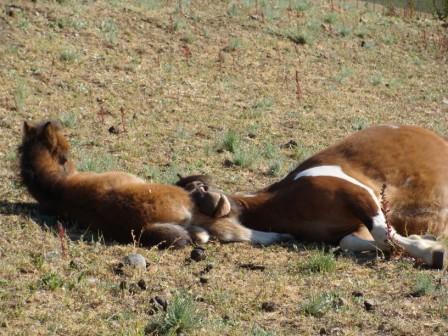 Val taking a nap on her daughter, Spyder (Wesco Farms Spyder Byte MX). We sadly lost Spyder to unknown causes about a month after this photo.
Valentina's pedigree
Wesco Farms AToy4Me Brazen Beauty
Las Doradas AToy4Me2
Hartins Tinker Toy
Bond AToy4U C
Bond Showboy
Bond Acushla
Bond Sir Galahad
Dell Teras Carbon Copy
Dell Teras Tinker
Dell Teras Pattycakes II
Dell Teras Otis
Dell Teras Tina
Samis On Target
Samis Knee Hi Lil Guy
Shadow Oaks Top Banana
Shadow Oaks Paul Bunyan
Shadow Oaks Tiny Miss
Samis Fame de Orion
Orion Light Vant Huttenest
Walkiri Bird Vant Huttenest
HNFS Sweetheart
HNFS Senior
HNFS Roxie
Las Doradas Celena
Willowbrooks Moonshadow
Dell Teras Thriller
Dell Teras Bronco
Irusl Vant Huttenest
Dell Teras Rhonda
AWH Lady Black
Hidden Rivers Tiffany Delight
Shady Acres Cracker Jack
Shady Acres Gee Whiz
Shady Acres Midget
Kraus Kings Lightening
Pedigree generated by PedigreeQuery.com