Wesco Farms TC Mattie Ace
"Mattie"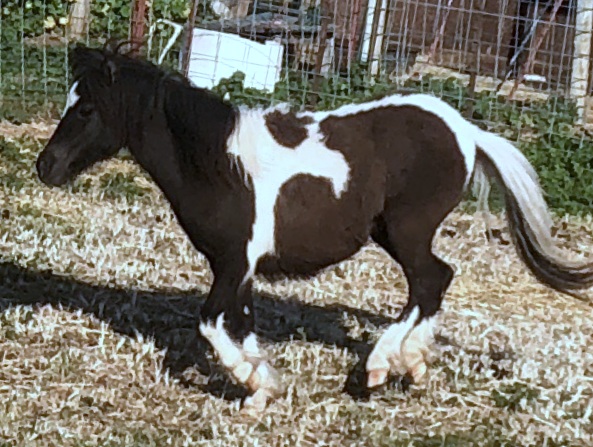 2017 AMHA & AMHR DNA/PQ tested
* Negative for the four ACAN dwarf mutations via inheritance
32.50" Black pinto filly
Sire: WCR Top Cop x Dam: Wesco Farms AToy4Me Brazen Beauty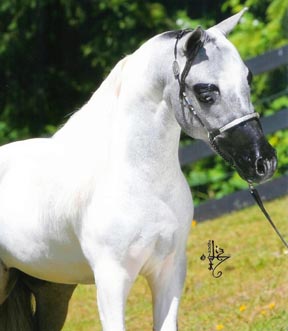 x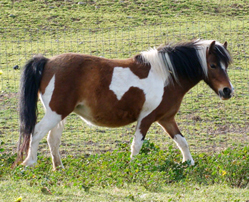 Mattie is Val's first black pinto with Topper. Mattie's full siblings were a solid bay and a two bay pintos.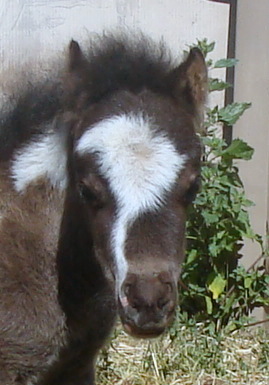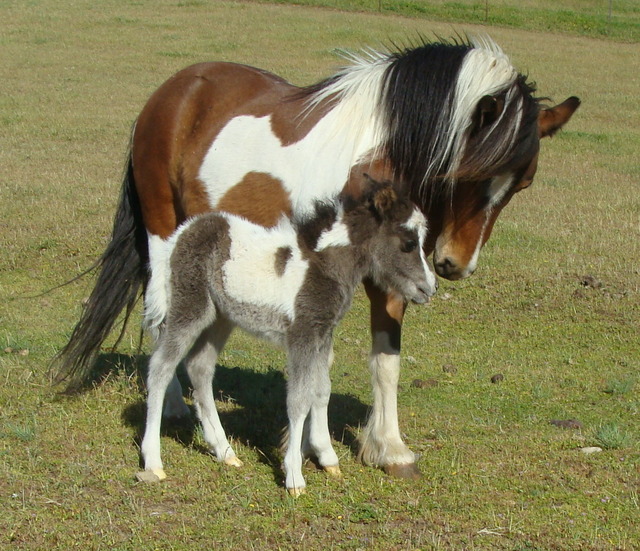 Our Breeding Philosophy
Wesco Farms has an unconventional breeding philosophy, in that we like a short foaling season (April foals ideally for our climate), and have chosen to NOT breed mares every year.

Our preference, is to put stallions to mares around May 1 and take them out May 31st for those April foals. Our stallions get a brief window - maybe one-two heat cycles depending on the mare. We're fine with a less than ideal cover rate, as we've dealt wit winter, summer and fall foals, April is our sweet spot!. We just don't want people to "assume" mares are at fault for what appears to be a sketchy foaling history as many mares do not get bred for a couple or three years depending on life circumstances; stallions chosen for that year; etc. AND rarely, do we breed a mare back after foaling.

We're including individual mare's breeding history below.
Please contact us! with any further questions or clarifications!

2020.We are not breeding this year. Next foals will be in 2022.
2021. Mattie Ace is four, but we decided to wait another year.
If we bree4d this year, Mattie will be bred to Ozzie, First Knight's Wizard of Oz.
Mattie's Pedigree
Wesco Farms TC Mattie Ace
WCR Top Cop
Lucky Four Andys Colorcard
Boones Little Andy
J RS Golden Boy
Bar K RS Little Chief Bustin
J RS Holland Beauty
June P I
Lucky Four Mights Monique
Lucky Four Might Moto
Double OS Mr Man Moto
Delightful Doll Moto
Showtimes Earth Angel
Gallery Original Pharos Cleopatra
Sierra Dawn Unos Pharoah
Sierra Dawn Uno de Mayo
Cottonwoods Star
Shangrilas Schatze
Star Farms Happy Talk
Cottonwoods Captain Red Lee
Star Farms Honeymoon
Deiles Dakota Daisy Delight

Boones Little Andy

J RS Golden Boy
June P I
Dakota Daisy
Wesco Farms AToy4Me Brazen Beauty
Las Doradas AToy4Me2
Hartins Tinker Toy
Bond AToy4UC C
Bond Showboy
Dell Teras Carbon Copy
Dell Teras Tinker
Dell Teras Pattycake II
Samis On Target
Samis Knee Hi Lil Guy

Shadow Oaks Top Banana

Samis Fame de Orion
HNFS Sweetheart
HNFS Senior
HNFS Roxie
Las Doradas Celena
Willowbrooks Moonshadow
Dell Teras Thriller
Dell Teras Bronco
Dell Teras Rhonda
AWH Lady Black
Hidden Rivers Tiffany Delight
Shady Acres Cracker Jack
Shady Acres Gee Whiz
Shady Acres Midget
Kraus Kings Lightening
Pedigree generated by PedigreeQuery.com
* Mattie Ace's parents are both negative for the four ACAN dwarf mutations, so she inherits that N/N status.