Wesco Farms Trinket
"Trinket"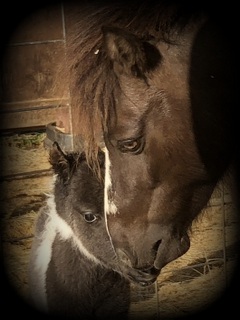 2013 AMHR B size
Registered Black Mare
* Trinket is NN (negative) for the four ACAN dwarfism mutations.

Sire: Wesco Farms Buckerowdyroo x Dam: Wesco Farms Count Your Blessings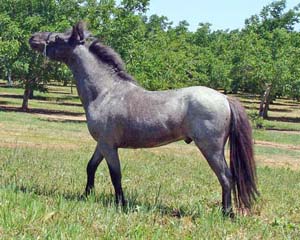 x
Trinket is a beautiful, leggy mare with a sweet disposition. She was a happy accidental breeding when her very athletic sire, Ringo, jumped the fence and was out with the mare herd all night. Apparently the only one cycling was his own daughter, Blessings. Blessings is like her dam, Una good at hiding pregnancies, so she didn't even look pregnant until a few weeks before delivery.

Not a breeding we would have considered - father/daughter and two roans (so much for the old wives tales about two roans won't work!), but the result is terrific. Trinket has wonderful conformation and looks like a big horse in Mini size. More so than most. People that see her from a distance assume we have big horse.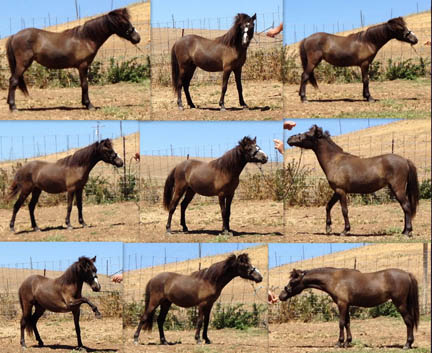 Trinket has always been super friendly since birth and very people oriented. Combine that with her natural athletic abilities and she's an ideal producer of athletic, intelligent all around performance horses/driving prospects.
Trinket's 2018 son, Wesco Farms TC High Boltage.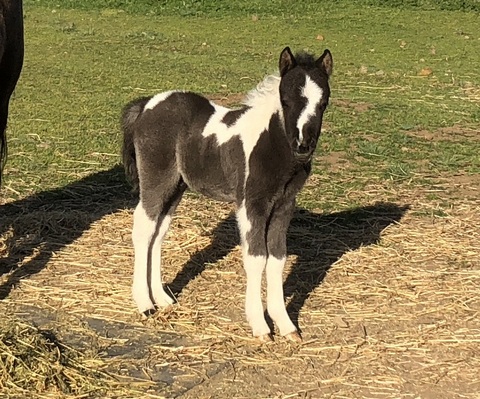 Our Breeding Philosophy
Wesco Farms has an unconventional breeding philosophy, in that we like a short foaling season (April foals ideally for our climate), and have chosen to NOT breed mares every year.

Our preference, is to put stallions to mares around May 1 and take them out May 31st for those April foals. Our stallions get a brief window - maybe one-two heat cycles depending on the mare. We're fine with a less than ideal cover rate, as we've dealt with winter, summer and fall foals, April is our sweet spot! We just don't want people to "assume" mares are at fault for what appears to be a sketchy foaling history as many mares do not get bred for a couple or three years depending on life circumstances; stallions chosen for that year; etc. AND rarely, do we breed a mare back after foaling.

We're including individual mare's breeding history below.
Please contact us! with any further questions or clarifications!


Trinket's Foaling History:



2022
2021. Trinket was briefly exposed to Dixon (two weeks?). Dixon injured himself so we pulled him out.
2020. We are not breeding any horses this year.
2019. Bred to First Knights Wizard of Oz. Open.
2018. Foaled Wesco Farms TCs High Boltage. Not bred.
2017. Bred to WCR Top Cop
As she is a father/daughter breeding she goes back to Rowdy and Buckeroo twice. Her parents are both blue roan but she is registered black, but has a funny brown-black appearance and lighter brown/amber eyes.
Trinket's pedigree
Wesco Farms Terrific Trinket
Wesco Farms Buckerowdyroo
Little Kings Bagheera Buckeroo
Boones Little Buckeroo
Poplar Lanes Samson
Johnstons Vanilla
Gold Melody Boy
Vanilla 3rd
Little Kings Mon Ami
Komokos Little King Supreme
Komokos Little Husseler
Komokos Teenie Jeanie
Little Kings Whisper
Fishers Little Eddie
Fishers Blossom
NFC Rowdys Lil Chiclet
Rowdy
Equus Minus Little Chiclet
Komokos Mountain Boy
Komkos Baby Jane
Komokos King Tut
Komokos Trixie
Wesco Farms Count Your Blessings
Wesco Farms Buckerowdyroo
Little Kings Bagheera Buckeroo
Boones Little Buckeroo
Poplar Lane Sampson
Johnstons Vanilla
Little Kings Mon Ami
Komokos Little King Supreme
Little Kings Whisper
NFC Rowdys Lil Chiclet
Rowdy
Equus Minus Lil Chiclet
Komokos Mountain Boy
Komokos Baby Jane
Wesco Farms Bella Luna
Las Doradas American Eagle
Sugarcreek Geronimo
San Antonios Sundance Kid
Stouts Bubbles
West Coast Buena Callita
Kays Calico
Hobby Horses Full Moon
Las Doradas Etoile de Mar
Willowbrook Moonshadow
Dell Teras Thriller
AWH Lady Black
Les Petites Avril
Tinker Toy Sundance
Candy Dipper
Pedigree generated by PedigreeQuery.com
* Trinket's parents are both Negative for the four ACAN dwarf mutations, so she inherits that N/N status.