Wesco Farms DN Gamebreaker
"Tox "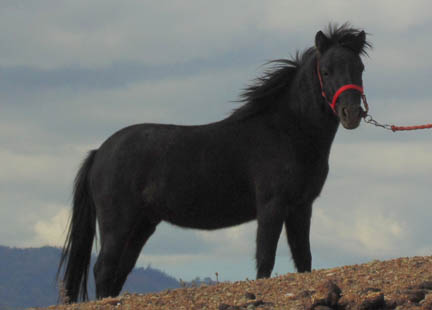 2012 AMHA & AMHR PD Black-bay GELDING 34"
Sire: Buckeye WCF Dance All Night x Dam: WCR Sheza Savoire Affaire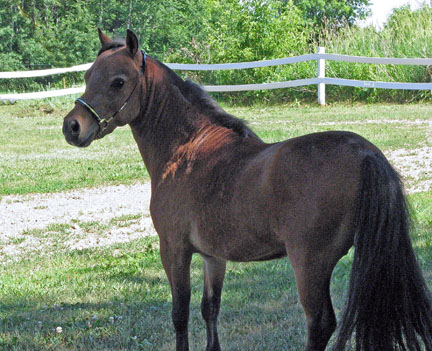 x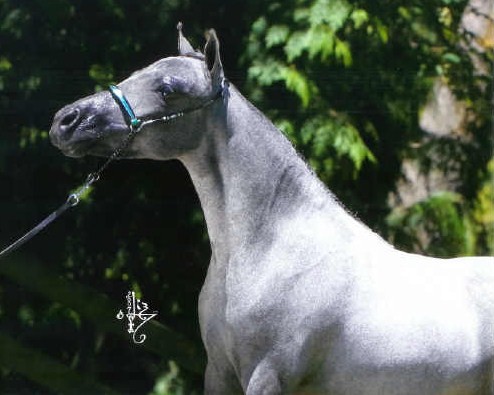 Tox is a great example of today's Miniature Horse. Leggy, short back, archy neck, pretty head and movement! He was gelded in December 2014 and is out in our mare/gelding herd. He has been worked with 1 v 1 taking long walks, obstacles, tying, farrier work, etc. He's not a pocket pet, but is responsive and learns quickly.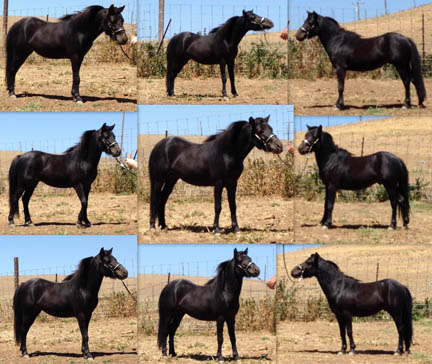 He'd make a great all around gelding and/or companion Mini. Ideally he'd be great with an experienced person that wants a Mini they can enjoy driving (he's old enough now to start training!).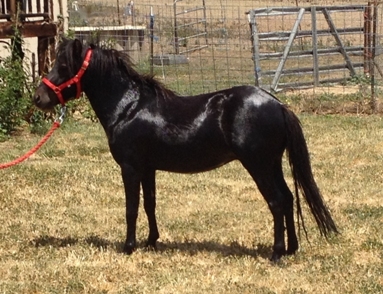 Tox with his new mom and new name "Radar". He now drives and is very popular in his neighborhood. What a great home!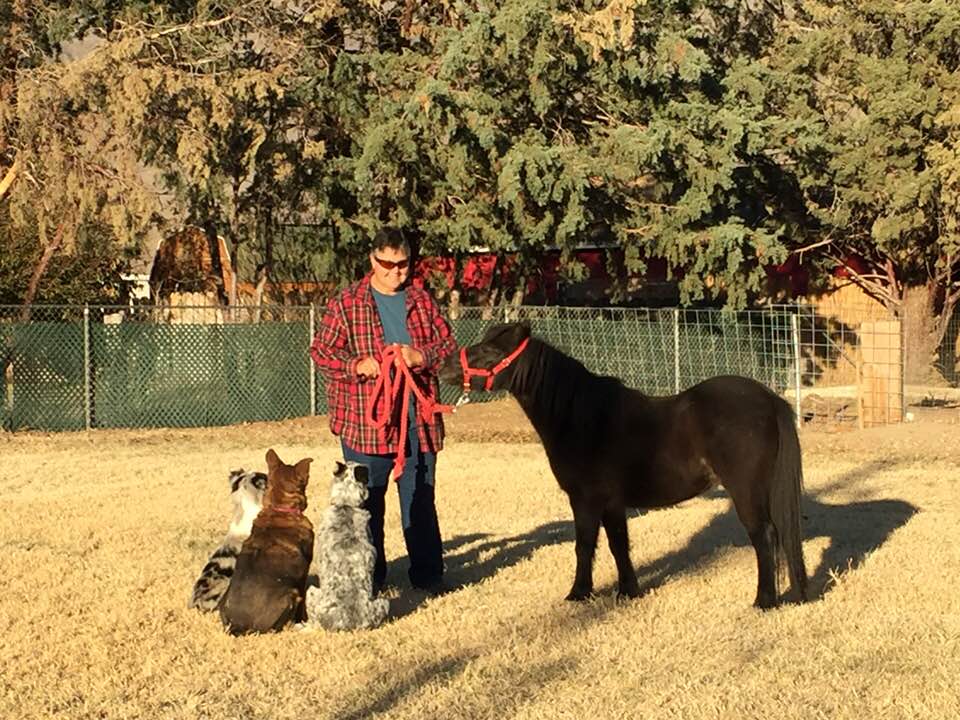 Tox's foal photo. Tox was our only foal in 2012, so didn't get the opportunity to play as much as many do, until we put Rose in with him(our resident babysitter).
Tox has a great pedigree too, although this is less crucial for geldings, he is a fine example of Uno de Mayo, FWF Little Wardance and Egyptian King to mention a few. We don't geld lightly, but truly feel only the best of the best colts/junior stallions should go on to be breeding stallions.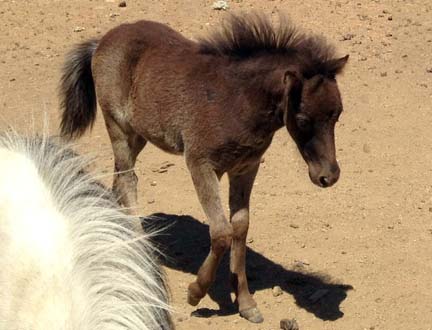 Tox's pedigree
Wesco Farms DN Gamebreaker
Buckeye WCF Dance All Night
Flwying W Farms Little Wardance
Flying W Farms Wardance
Flying W Farms Sundance
Flying W Farms Matadors Moonflower
Flying W Farms Wildwood Rose
Raffey
Roseanna
Buckeye WCF Dance Until Dawn
Willow Creeks My First Dance
Flying W Farms Little Wardance
Flying W Farms Wardance
Flying W Farms Matadors Moonflower
Flying W Farms De Ja Blue
Flying W Farms Little Blue Cody
Flying W Farms Blue illusion
Rae Lyn Tax Exempt
NFC Egytian Kings Midas Touch
Hemlock Brooks Egyptian King
Monastery Madre Mia
Rae Lyn Buttercup
Landrys Cowboy Bill
Nikki Lynns Cricket
WCR Sheza Savoire Affaire
Creekside Pharaohs Phlash Dance
Sierra Dawn Unos Pharaoh
Sierra Dawn Uno de Mayo
Cottonwoods Star
Shangrilas Schatze
Star Farms Happy Talk
Cottonwoods Captain Red Lee
Star Farms Honeymoon
Ballards Tantalizing Tina
Lowes Low Rider
Cedar Hedges Fury
Bond Tamasha
HNFS Miss Alibi
HNFS Senior
Shara Midnight
Sierra Dawn Unos Fatima
Sierra Dawn Uno de Mayo
Cottonwoods Star
Shagrilas Schatze
Bond Scrapper
Bond Lode Star
B ZS Touch of Class
Dunnings Cisco Blue
Dunnings Cutie Grey Dove
Dunnings Silver Son
Larigo Patton FXW 554
Pedigree generated by PedigreeQuery.com