Wesco Farms Buckerowdyroo
"Ringo"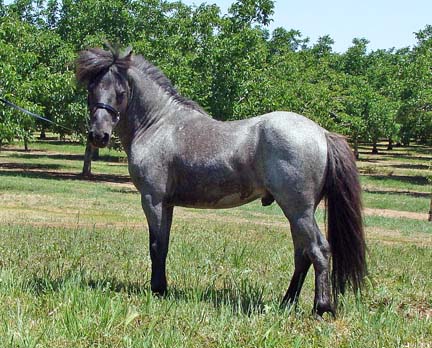 2003 AMHA & AMHR DNA PQ tested 33.75" Blue Roan Stallion
Negative for the known ACAN dwarf mutations

Sire: Little Kings Bagheera Buckeroo x Dam: NFCS Rowdys Lil Chiclet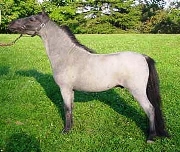 x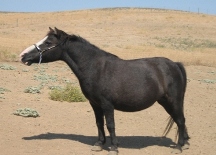 Ringo is another one of my gaga horses, that will be with me til the end. He's wonderfully bred, eye catching and has an excellent disposition and personality. He is a grandson of both Buckeroo and Rowdy and it shows. His movement is exquisite and he has the total look at me attitude.
Every visitor here remarks on him, even those that do not like roans! He's definitely eye-catching out in the field!

Ringo as he is on the taller side, we breed to a couple of mares every year or so or three. He's darn creative though and we've had a few 'surprise' foals from his ability to impregnate mares through fences/round pens/around the side of the barn....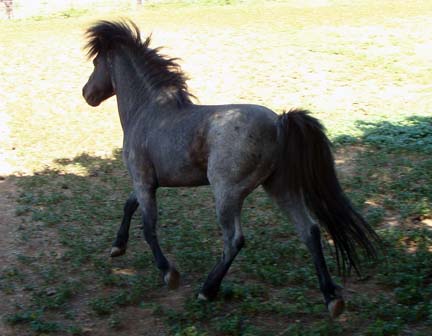 Seriously our fencing here is either "Ringo proof" or not! We do have two foals this year a son and daughter. Both should have excellent movement and will be B size. Perfect for driving, CDE and/or all around performance.
Some past Ringo foals:
WWesco Farms ETs Secret Affair, Wesco Farms Count Your Blessings and Wesco Farms Twist of Fate (Bruiser).

Ringo's pedigree
Wesco Farms Buckerowdyroo
Little Kings Bagheera Buckeroo
Boones Little Buckeroo
Poplar Lanes Samson
Johnstons Vanilla
Gold Melody Boy
Vanilla 3rd
Little Kings Mon Ami
Komokos King Supreme
Komokos Little Husseler
Komokos King Tut
Komokos Lady Bug
Komokos Teenie Jeanie
Komokos Mountain Boy
Komokos Sally
Little Kings Whisper
Fishers Little Eddie
Fishers Blossom
NFCS Rowdys Lil Chiclet
Rowdy
Kewpies Sun
Equus Minus Lil Chiclet
Komokos Mountain Boy
Komokos Baby Jane
Komokos King Tut
Komokos Trixie
Pedigree generated by PedigreeQuery.com
** Little Kings Bagheera Buckeroo owned by Junior Bear Ranch