Wesco Farms Ozs Coco Caliente
"Coco"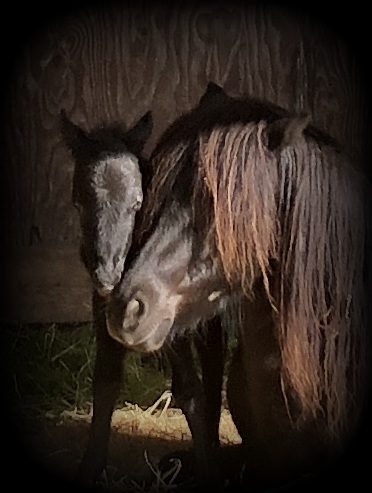 2014 Black Filly. AMHA/AMHR PQ test pending
Sire: Fallen Ash Scouts Oscar x Dam: Half Measures Rockette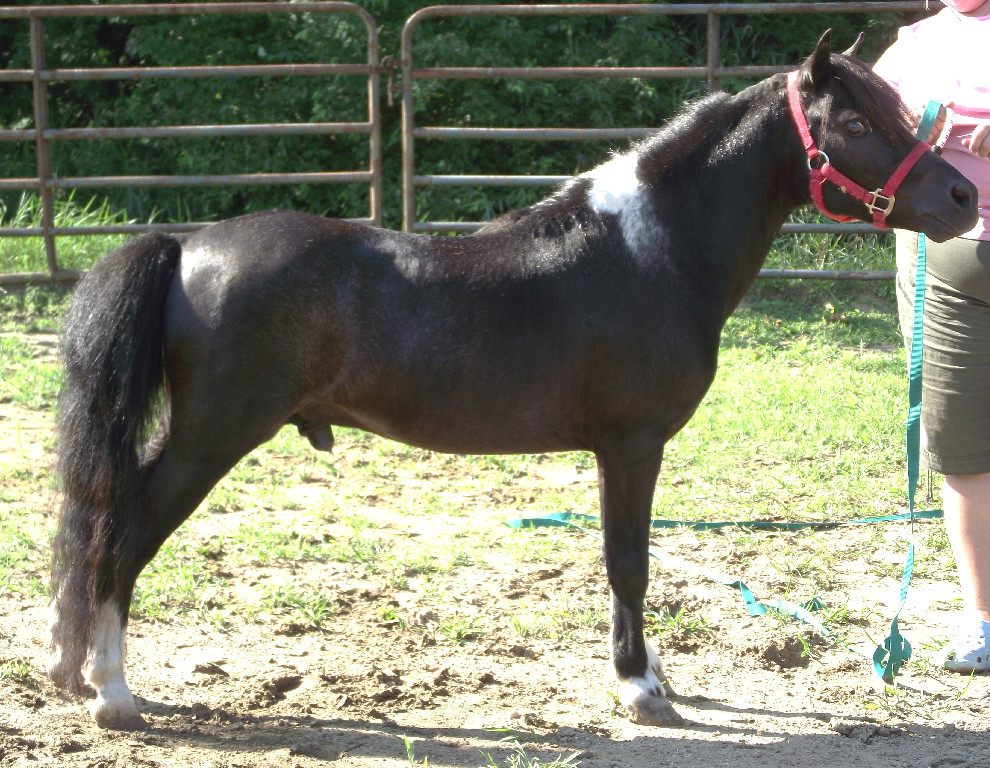 x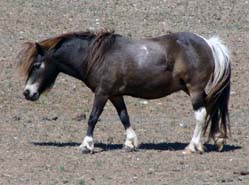 Coco is gorgeous, even if she's solid black out of two pinto parents! Daughter of our stallion Oz (Fallen Ash Scouts Oscar, a L&D Scout son), her dam is a beaituful sooty buckskin pinto mare that has already produced show winning foals.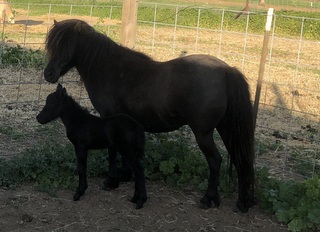 Coco has the conformation, refinement and now proven broodmare to make a great addition to any breeding program.
On the left is Coco and on the right her son, Tilty. He's going to have the same refinement she does apparently!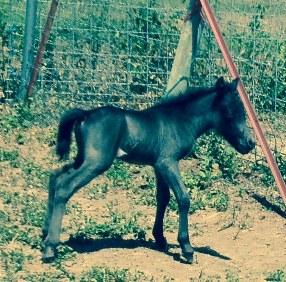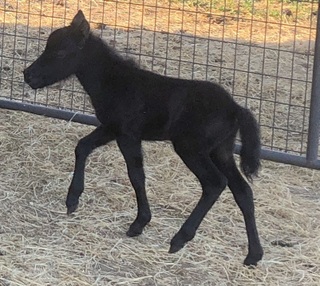 Wesco Farms has an unconventional breeding philosophy, in that we like a short foaling season (April foals ideally for our climate), and have chosen to NOT breed mares every year.

Therefore we breed in May. Usually we try to put stallions to mares around May 1 and take them out May 31st for those April foals! So our stallions get one, maybe two, potential heat cycles at the max. We're fine with that, but don't want people to "assume" mares are at fault for what appears to be a sketchy foaling history.

Many mares do not get bred for a couple or three years depending on life circumstances; stallions chosen for that year; etc. AND rarely, if ever, do we breed a mare back after foaling.

So, we're going to start including mare breeding histories on the individual sale horse's page. Please contact us! with any further questions or clarifications!

2019. Bred to First Knights Wizard of Oz
2018. Foaled Wesco Farms TCs Full Tilt Charmer. OPEN for 2019.
2017. Bred to Topper. Black (probably greying) colt in 2018.
Coco as a yearling.
Coco's pedigree *
* We made the mistake of Parent Qualifying her dam, Half Measures Lord of the Dance when we purchased her, as we like to KNOW the breeding of our horses and when we tell buyers this horse is xyz it actually is that! Dani had only been DNA tested before, NOT Parent Qualified. Turns out Dani was a different horse - Half Measures Rockette, not Half Measures Lord of the Dance. Sadly her sire had died before his paperwork went permanent, but he had been DNA tested, so she lost her sire's pedigree, but retained her AMHA papes!
That was the LAST time we made that error of PQ-ing other peoples horses!
Wesco Farms Ozs Coco Caliente
Fallen Ash Scouts Oscar
L&D Scout
Orion Light Vant Huttenest
L&D April Lady
Flying W Farms Texas Bluebonnet
Flying W Farms Little Blue Boy
Ohios Tiny Tim
Ohio's Nellie Grey
Flying W Farms Fairflight
Half Measures Rockette
unknown
Buttonwillows Dusty Dawn
Lippes Granite
Dell Teras Tinker
Dell Teras Betty
Deiles Dust Girl
Parrs Sambo
Dieles Dust
Pedigree generated by PedigreeQuery.com