Wards Creek Extreme Dream
"Remy"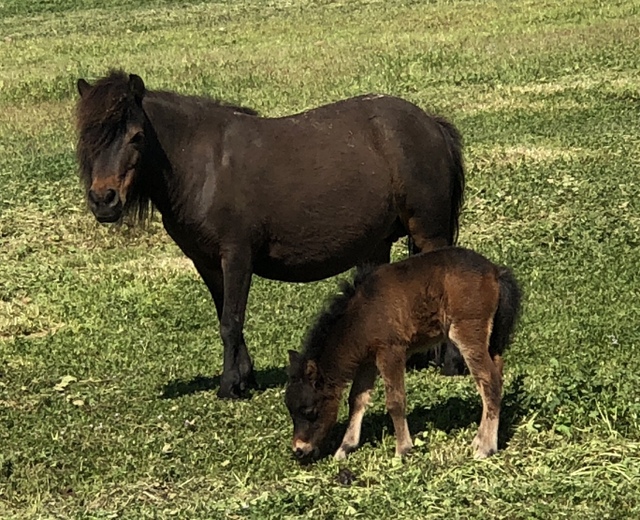 2005 AMHA & AMHR DNA tested
* * Negative for the four known ACAN dwarf mutations! * *
32.75" Bay Mare


Sire: Glenn Stars Sundance x Dam: Lucky Four Grands Moon Glow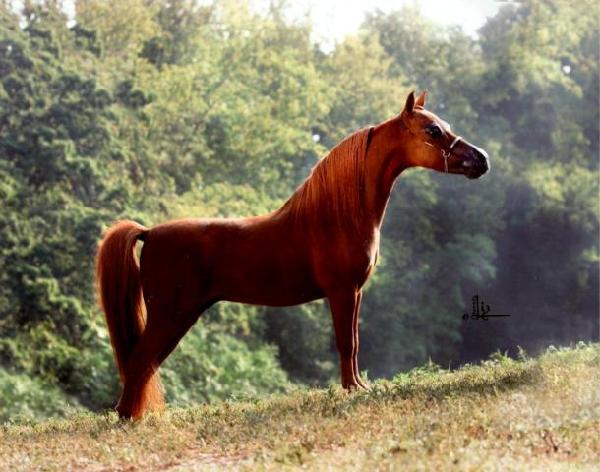 x no dam photo available
Remy is a beautiful mare, with a gorgeous head, wonderful conformation and sweet disposition. We've yet to capture a decent photo of her, but she's a pretty one.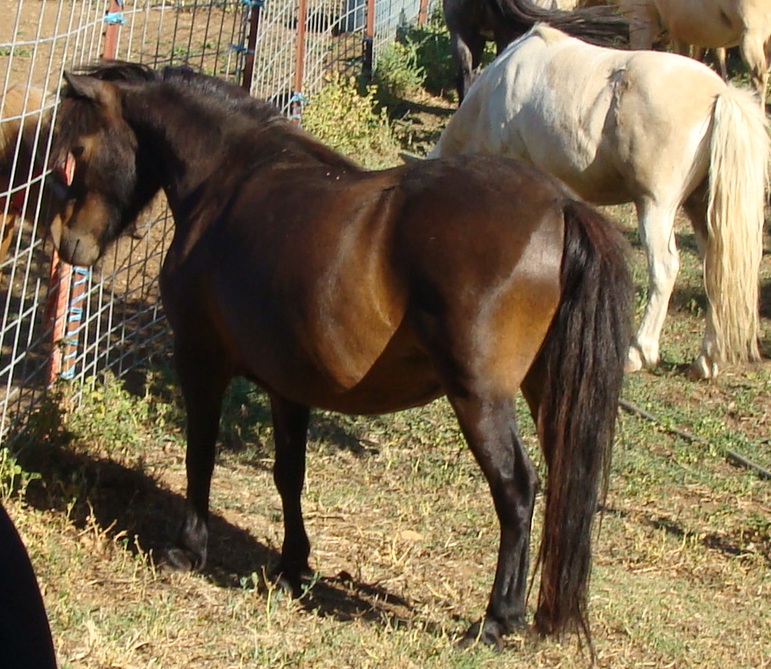 Her sire is the well known Glenn Stars Sundance while her dam came from Lucky Four and they don't do crappy Minis! We were fortunate that Remy wasn't a pinto, as her breeder bred pintos, so we got to add Remy to our breeding program.

She wasn't the most eye catching from the first photo we saw of her, but loved her pedigree, color and pretty head!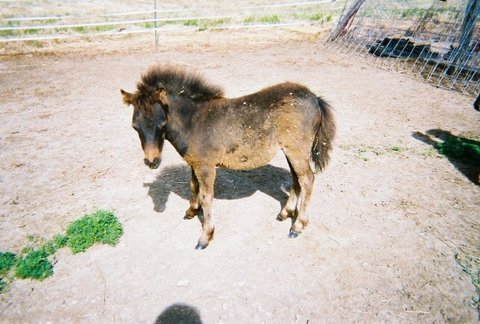 REMY'S Foals. (Left to right) Remy had her first foal for us in 2010, a gorgeous colt, Wesco Farms Best Guesstimate, sired by Wesco Farms Rohans Echo ET. Her second in 2014, a black pinto colt, Wesco Farms Osz Venetian Agenda, and her third, Wesco Farms Ozs Monday Matinee in 2018 both sired by Fallen Ash Scouts Oscar. Her 2020 colt, Wesco Farms WO Tuscan Sun is a gorgeous palomino colt!


Our Breeding Philosophy
Wesco Farms has an unconventional breeding philosophy, in that we like a short foaling season (April foals ideally for our climate), and have chosen to NOT breed mares every year.

Our preference, is to put stallions to mares around May 1 and take them out May 31st for those April foals. Our stallions get a brief window - maybe one-two heat cycles depending on the mare. We're fine with a less than ideal cover rate, as we've dealt wit winter, summer and fall foals, April is our sweet spot!. We just don't want people to "assume" mares are at fault for what appears to be a sketchy foaling history as many mares do not get bred for a couple or three years depending on life circumstances; stallions chosen for that year; etc. AND rarely, do we breed a mare back after foaling.

We're including individual mare's breeding history below.
Please contact us! with any further questions or clarifications!

2020. Foaled Wesco Farms WO Tuscan Sun "Apollo", palomino colt. We are not breeding this year. Next foals will be in 2022.
2019. Bred to First Knights Wizard of Oz in 2019.
2018. Wesco Farms OZs Monday Matinee, "Emmy"bay filly. Not bred back.
2017-2018. Bred to Fallen Ash Scouts Oscar.
2016. In with WCR Top Cop, 20 days. No foal.
2015. In with Fallen Ash Scouts Oscar. One cover. No foal.
2014. Foaled Wesco Farms OZs Venetian Agenda, "Dixon", black pinto colt. Not bred.
2013. Bred to Fallen Ash Scouts Oscar.
2012. Not bred. One night fence jump Ringo with all the mares, not pregnant.
2011. Bred to Buckeye WCF Dance All Night > Aborted foal at 8-9 months.
2010. In with Topper, 20 days. (Already pregnant from Rohan we didn't know that at the time!).
2009. Creative use of a fence by Wesco Farms Rohan Echo ET, resulted in a November 2010 foal. Wesco Farms Best Guesstimate.
Remy's pedigree
Wards Creek Extreme Dream
Glenns Stars Sun Dance
NFC Husselers Star
Komokos Little Husseler
Komokos King Tut
Komokos Lady Bug
Dell Teras Star Dust
Crescent Sidney
Geranimo
Strawberry
Dell Teras Lady E
Dell Teras Jim Dandy
Dell Teras Tammy
Glenns Jezabel
NFC Husslers Star
Komokos Little Husseler
Komokos King Tut
Komokos Lady Bug
Dell Teras Star Dust
Crescent Sidney
Dell Teras Lady E
Triple Tone
Dell Teras Red Baron
Dell Teras Moon Man
Dell Teras Barbara S
Sweet Candy
Lucky Four Grands Moon Glow
Green Acres Blackberry Grand
Double A Little Dancer
Little Kings Blackberry
Komokos Little King Supreme
Lil Ponderosa Bonny
Marijntje Van Double Dutch
Bontje
Mievatje
VBS Little Miss Emily
Little Snort
Little Red
Blondie
VBS Maude
Sweetwaters Overa II
Warwick Farms Nip of Alfalfa
Little Kings Alfalfa Please
Komokos Little King Supreme
Lil Ponderosa Bonny
Story Books Thumbelina
Hemlock Brooks Silver Legend
Hemlock Brooks Muffin Muncher
Flying W Farms Blue Boys Cricket
Flying W Farms Little Blue Boy
Ohios Tiny Tim
Ohios Nellie Grey
Flying W Farms Joanie
Pedigree generated by PedigreeQuery.com